Capithetical: The Stateless City
Awards:
2012 Capithetical Exhibited Finalist
Status: Competition Entry
Year: 2012
The Stateless City looks at the potential of the Australian capital as a bridge between the existing dense urban populations of Sydney and Melbourne, feeding off the infrastructural opportunities provided by a high speed rail line between the two. The concept of a high speed rail link is a topical one at present, as issues of urban sprawl, and efficient use of resources come to the fore. This proposal takes this idea to its utopian extremes. The capital city that evolves would be one at a continental scale, an Australian scale, freed from its current stasis to move at will anywhere along the line. The question at its core is
What if the tyranny of distance was removed?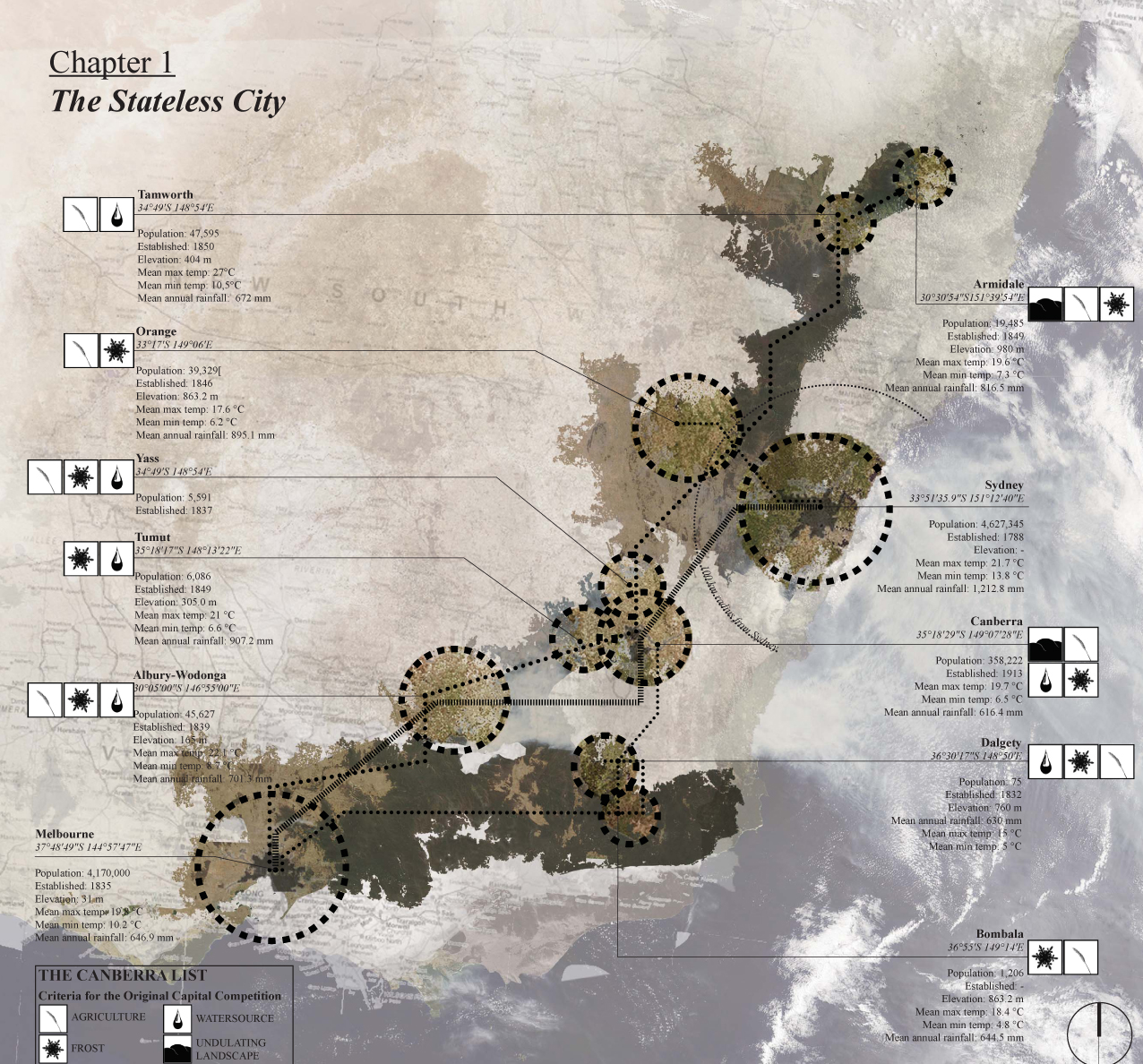 The idea emerged initially from the historical conflict between Sydney and Melbourne as to which city should rightfully host anew capital. The competiton was plagued by constant political bickering and profiteering from its inception. So the concept began to emerge of a city that could be claimed by neither NSW nor Victoria and would therefore be free from these political shackles: The Stateless City. This was eventually solved by the formation of the Australian Capital Territory, which, whilst appropriate at the time, now seems isolated in an age where interconnectivity is everything.

The initial hunt for the nation's capital was plagued by bureaucratic bickering over the site: Bombala, Albury, Lyndhurst,Tumut, Dalgety, Yass Canberra, Orange, Armidale amongst a total of forty. Each choice was governed by complex climatic and political factors. Sites were based on a desire for a cool climate, proximity to water, annual rainfall and primary infrastructure. The Stateless City eliminates the need to choose, assimilating several of the original 'shortlist' for Canberra as well as a wealth of different landscapes along the line. What if politics and climate were removed from the equation? Essentially

What if you didn't have to choose?
The Stateless City does not propose an end to urban sprawl. It takes the desire for space, for a 'home of one's own' as somehow inherent to the Australian psyche and instead provides an infrastructural channel for urban sprawl, feeding and supporting it. The mass linear form highlights and increases the surface area and exposure between the city and the agricultural landscapes of Australia, breaking down divisions between city and country. Visitors also experience the unique scale of the Australian landscape. The proposal looks to, among others, the paintings of Fred Williams and the poetry of Dorothea Mackellar as the embodiment of this over-scaled Australian landscape.
It is a celebration of an 'Australian scale'.

'The love of field coppice,
Of green and shaded lanes,
Of ordered woods and gardens,
Is running in your veins;
Strong love of grey-blue distance,
Brown streams and soft dim skies-
I know but cannot share it,
My love is otherwise.'

'I love a sunburnt country,
A land of sweeping plains,
Of rugged mountain ranges,
Of drought and f looding rains,
I love her far horizons,
I love her jewel sea,
Her beauty and her terror,
The wide brown land for me.'